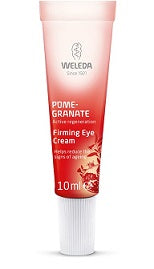 ie-produce
Weleda Pomegranate Firming Eye Cream
Weleda Pomegranate Firming Eye Cream 10ml
Reduces wrinkles and laugh lines around the delicate eye area
Firming eye cream with antioxidant-rich pomegranate seed oil to even out the surface of the skin. Protects and helps encourage new cell growth.
Description
A little tube of magic for smiling eyes, this fragrance-free, light-as-silk lotion strengthens the most delicate skin while reducing clues to your age. Laugh lines and wrinkles fade, skin regains luminosity and is protected every day from free radicals. With organically-grown pomegranate and golden millet to aid cell regeneration – now all you need to do is smile.
Benefits
Reduces lines and wrinkles, fragrance-free, antioxidant. Good skin compatibility. Ophthalmologically and dermatologically tested even with contact lenses.
Punica Granatum Seed Oil
The yellow to reddish coloured, relatively thick Pomegranate Seed Oil is one of the active agent oils and is rich in the rare punicic acid (an unsaturated fatty acid). This valuable vegetable oil also has antioxidant properties that improves the regeneration of the skin and is therefore considered to be an outstanding skin care product for dry, aging and stressed skin.
Sesame Seed Oil
Sesamum Indicum (Sesame) Seed Oil
Sesame Seed Oil works as a perfect massage oil and is used for the care of wan, dry and mature skin but it is also used as a hair conditioning product. It has a great antioxidative effect, skin caring properties and is an ideal carrier oil for active agents. It comprises of a high content of unsaturated fatty oils, such as oil and linolenic acid, as well as phytosterols and Vitamin E (esp. gamma-tocopherol).
How to use
Gently pat a pearl-sized amount around the eyes every morning and evening after cleansing.
---
More from this collection