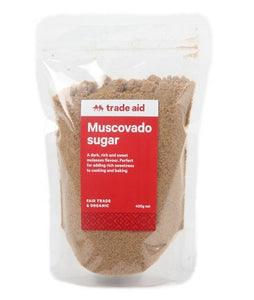 ie-produce
Trade Aid Muscovado Sugar 400gm
Trade Aid Muscovado Sugar 400gm
Moist, rich and unrefined, our muscovado sugar features smoky, fruity, toffee notes. It's sensational in sweet and savoury dishes alike, and pairs especially well with spices, chocolate and coffee. 
Muscovado sugar retains the nutritional value of whole molasses and can be used in place of soft brown sugar.  Made in northern Peru by small-scale farmers.
Store in a cool dry place.
Ingredients:
Muscovado Sugar *^ (Organic*, fair trade ^)
Allergen & dietary information:
Egg free, nut free and sesame free
---
More from this collection