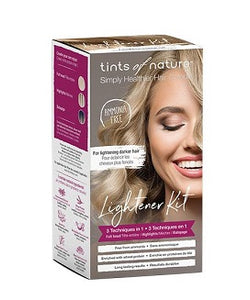 ie-produce
Tints of Nature Ammonia-Free 3-in-1 Lightner Kit
Tints of Nature Ammonia-Free 3-in-1 Lightner Kit 
Our New Ammonia Free 3 in 1 Lightener Kit is perfect for Lightening your hair, adding highlights or a balayage.
Discover a naturally healthier way to lighten your hair at home using our Tints of Nature 3 in 1 Lightener Kit. Specially formulated, ammonia free and full of natural and organic ingredients to gently nourish, condition and protect your hair whilst lightening.
Our 3 in 1 Lightener Kit is also perfect for adding highlights or a balayage from the comfort of your own home; see our Lightener Tips for a step by step guide to achieving your dream hair.
Vegan friendly and cruelty free, the Tints of Nature Lightener Kit is designed to lift and brighten medium brown to blonde hair by 4 to 7 shades. For dark brown and black hair please carry out a strand test beforehand.
Always make sure you carry out a skin sensitivity test before applying any colour to your hair to ensure your are not allergic to any ingredient used.
Full Head Application (For Balayage and Highlight Application please see our Lightener Tips)
1.Put on plastic gloves. Mix Lightening Powder, Cream Activator and Protective Oil in the mixing ray with the brush to create a smooth paste.
2. Brush the lightening mixture onto clean, dry hair. Ensure hair is fully covered.
Touching up full head roots: Brush the lightening mixture to the roots only, avoiding previously lightened hair.
3. Cover with plastic development cap and wait for the duration of your personal development time, up to a maximum of 45 minutes.
4. With clean gloves, remove development cap. Rinse hair thoroughly with warm water until all product is removed. Shampoo and Condition hair using Hydrate sachets provided. Leave Conditioner for 5 minutes and comb through. Rinse thoroughly. Style as usual.
---
More from this collection