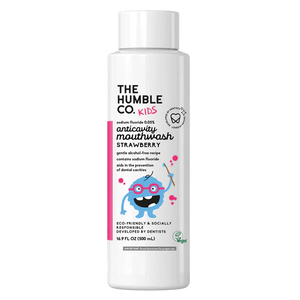 ie-produce
The Humble Co. Mouthwash Fresh Strawberry
The Humble Co. Mouthwash Fresh Strawberry 
all the bling, without the sting.
your gums don't need to burn for your breath to sparkle. alcohol-free and goodness-filled, this mouthwash will put an end to social distancing.
made with carefully selected ingredients, to prevent gingivitis, plaque and cavities, so you can swirl and swish care and tear-free.
A REFRESHING SWISH FROM HEAVEN
this non-toxic mouthwash from the humble co. helps heal wounds, relieves a dry mouth, reduces oral inflammation, strengthens the oral immune support, prevents plaque-causing bacteria – and tastes great.
THE SECRET SAUCE
water, glycerin, betaine, polysorbate-80, peppermint (mentha x piperita I.) oil, rebaudioside A, aloe vera (aloe barbadensis) leaf juice, citric acid, sodium benzoate, potassium sorbate.
HOW TO MOUTHWASH
for kids between 3-12 years. simply pop the lid, fill the cup with desired amount, about 10ml, swoosh the mouthwash into your mouth. shake, dance and rinse for about 1 minute before spitting. enjoy!
caution: do not swallow and preferably do not eat for about 30 minutes after usage
---
More from this collection