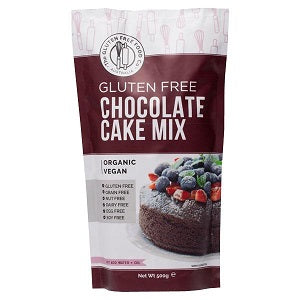 ie-produce
The Gluten Free Food Co Chocolate Cake Mix
The Gluten Free Food Co Chocolate Cake Mix 500gm

Ingredients:

1 packet Gluten Free Chocolate Cake mix
2/3 cup vegetable oil
1 1/4 cups water
Method:
Preheat oven to 150°C and line an 20-22cm cake tin with baking paper.
Empty the contents of the packet into a bowl.
Add the oil and water and whisk until smooth.
Pour into the cake tin and bake for 45-60 minutes.
Allow to cool before cutting.
Chocolate Ganache
To make ganache, heat 200g coconut cream in a small saucepan.
When hot, add 200g chopped dark chocolate (50-60%) cacao solids, dairy free if possible.
Remove from the heat and whisk until the chocolate has melted into the coconut cream.
Spread over cold cake or allow the ganache to cool and then whip it into a mousse.
---
More from this collection