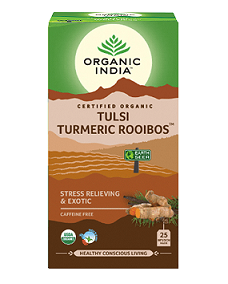 ie-produce
Organic India Tulsi Tumeric Rooibos 25tbags
Organic India Tulsi Tumeric Rooibos 16tbags
Organic India Tulsi Tumeric Rooibos 25tbags
Tulsi, Rooibos, Turmeric, with traditional Indian spices and a hint of Vanilla, create a rich, stress-relieving infusion that warms the digestive fire.*
25 tea bags per box

Abundant in antioxidants

Powerful adaptogen

Gluten-free

USDA certified organic

GMO-free

Kosher & Halal certified
Turmeric has traditionally been used as a liver tonic, to support digestive function, heart health, a healthy immune response, and of course joint and muscle health. In Ayurveda, Turmeric is treasured as a purifying tonic that supports overall wellbeing and vitality.
Rooibos, native to South Africa, is a caffeine-free source of minerals, polyphenols, and antioxidants. It has a naturally sweet mild taste. In native Afrikaans, Rooibos translates to "red bush."
Revered in India as "The Queen of Herbs," Tulsi (Holy Basil) is the essential base of each of ORGANIC INDIA's herbal infusions. Used for more than 5,000 years, Tulsi is an adaptogenic herb that aids in stress relief, uplifts mood, and supports both the immune system and the body's natural detoxification process.
---
More from this collection