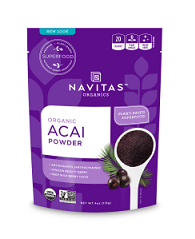 ie-produce
Navitas Acai Powder 113gm
Acai Powder has a flavour that's somewhere between chocolate and wild berries, and its abundant (and super-healthy) omega fatty acid content gives it a unique and creamy texture that makes it easy to use.
What's more, Acai is a low-glycemic berry that provides an abundance of antioxidants, omega fats, and fibre to keep you feeling full throughout your day. Acai's rich and creamy texture blends perfectly into smoothies and shakes, yoghurts and dessert recipes. 
A very, very nutritious berry, Acai delivers a serious helping of antioxidants and essential omegas.
How to Use:
BLEND INTO SMOOTHIES
MIX INTO YOGURT
ADD TO DESSERT RECIPES
---
More from this collection