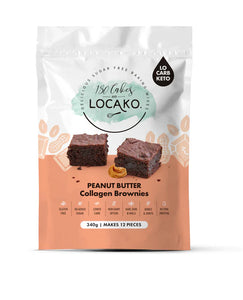 ie-produce
Locako Collagen Peanut Butter Brownies 340gm
Locako Collagen Peanut Butter Brownies 340gm
180 Cakes Locako Collabaration Peanut Butter Collagen Brownies
You will need:
140g melted unsalted butter (or 80ml mct oil) 3 large eggs
INSTRUCTIONS
Preheat oven to 150°c (with fan) or 170°c (without fan). Grease a 18cm/7inch square tin and line with baking paper.
Place butter, eggs and brownie mix in a large bowl and stir with a wooden spoon until just combined.
Spoon mixture into tin and smooth the top. Bake for 35 minutes or until a skewer inserted into the centre comes out with moist crumbs clinging. Let cool in tin completely.
INGREDIENTS:
xylitol (plant extract), Peanut Butter Powder (19%), almond meal, Raw Cacao Powder (17%), Hydrolysed Collagen Peptides, 100% Coconut Medium Chain Triglycerides (C8 & C10), Prebiotic Acacia Fibre, Natural Flavours, Guar Gum, Organic Stevia, baking powder, salt.
ALLERGEN ADVICE
Contains: Tree nuts and Peanuts Manufactured in a facility that is free of Gluten
Sugar content naturally derived from ingredients. Excessive consumption may have a laxative effect. Xylitol is toxic to dogs, do not feed to your pets. Store in a cool, dry place.
SERVINGS PER PACKAGE: 12
Serving size: 1 slice (approx. 45g)
---
More from this collection