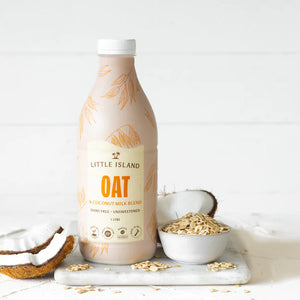 ie-produce
Little Island Coconut Creamery Oat Milk 1lt
Little Island Coconut Creamery Oat Milk 1lt 
Oat & Coconut Milk Blend
Back in 2010, Tommy & James started Little Island with a few simple goals. First, make plant based foods that are delicious, kinder to the planet and above all else, just don't taste weird. This little number here ticks all these boxes. Not only are our Plant Based Milks perfect for smoothies, cereal, coffee, cooking and baking, plant based milks have been shown to have about a third of the carbon emissions than milk from a cow*! So thanks for choosing to make a difference. We hope you enjoy our Little Island.
Here at Little Island, we source the very best organic oats and blend them with our organic coconut milk to give you a delicious and balanced dairy free milk that not only tastes great but is good for you too. Enjoy.
 Ingredients
Filtered Artesian Water, Coconut Cream (6%), Oats (5%), Lithothamnion Seaweed, Acacia Fibre, Faba Bean Protein, Natural Flavour, Sea Salt, Stabilizer (Gellan Gum), Mushroom Powder, Vitamin (B12). ALLERGENS: Oat, may contain traces of Almond.
---
More from this collection