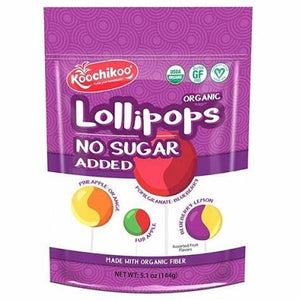 ie-produce
Koochikoo Lollipops (No Added Sugar)
Koochikoo Lollipops (No Added Sugar) 60gm - approx 10 pcs
Tickle your taste buds with these amazing no sugar added lollipops from Koochikoo. Sweetened with only organic tapioca fiber.
Each 60g bag comes with approx 10 lollipops and are vegan, organic and gluten free. Flavours include pineapple-orange, pomegranate-blueberry, fuji apple, blueberry-lemon.
Ingredients: Tapioca Fibre*, Citric Acid, Natural Flavours (Blueberry, Lemon, Pomegranate, Pineapple, Orange, Apple), Natural Colours (Purple, Sweet Potato Extract, Curcumin, Red Pepper Extract, Rosemary Extract). * Organic.
Serving Size = 1 piece (6g) Servings per pack: 10 Approx
---
More from this collection