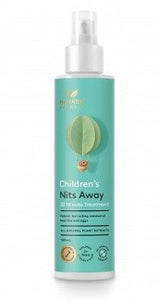 ie-produce
Harker Herbals Children's Nits Away 200ml
Harker Herbals Children's Nits Away 200ml
A spray-on shampoo using a blend of potent Manuka and Tea Tree oils to kill head lice and remove eggs. Suitable for all ages from 2 years.
Suffocates head lice
Dissolves cement attaching eggs to hair shaft
No need for combing – head lice and nits wash out when shampoo is rinsed from the hair
Solution will lather into shampoo once wet and rubbed into scalp
All included plant oils have insecticidal activity
A study undertaken in a school in Bay of Plenty achieved excellent results to kill lice and remove eggs using the exact same ratio of Manuka and Tea Tree oils as in our Nits Away.
Always read the label and use as directed. If symptoms persist, see your healthcare professional.
Active ingredients
WHITE THYME oil
NEW ZEALAND MANUKA oil
AUSTRALIAN TEA TREE oil
EUCALYPTUS GLOBULUS oil
Base ingredients: Blended in a shampoo base of purified water, Lauryl Glucoside (from Coconut & Maize), Sodium Coco Sulfate (from Coconut oil), Penoxyethanol and Ethylhexylglycerin (from plant glycerin), citric acid, Sodium Chloride, Macadamia seed oil, Coconut oil
Directions:
Shake bottle well and apply Nits Away to dry hair. Ensure all hair is covered from root to tip and scalp is thoroughly wet.

Cover hair with a shower cap for 20 minutes.

Remove cap, lather hair in the shower and rinse thoroughly. No need to comb afterwards.

Repeat in 10-12 days to ensure head lice life cycle is broken .
---
More from this collection