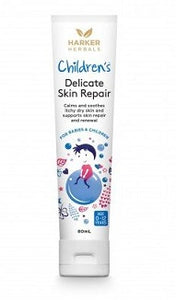 ie-produce
Harker Herbals Children's Delicate Skin Repair 80gm
Harker Herbals Children's Delicate Skin Repair 80gm 
Steriod free cream to soothe itchy dry or raw skin and support skin renewal. Suitable for all ages (not just children!)
Contains Gotu Kola, rich in triterpenes, which are clinically researched to be active with type 1 collagen to support wound healing and stronger skin

Steroid free
Safe to use on the face and sensitive areas
Reduces itching and soothes the skin

Rosehip seed oil adds linolenic fatty acid to support skin repair and renewal 
Blue Chamomile oil soothes irritated skin
Suitable for all dry, itchy skin conditions
Always read the label and use as directed. If symptoms persist, see your healthcare professional.
Active Ingredients:
Gotu Kola, Rosehip seed oil, Chamomile oil

Base Ingredients:
Blended in a glucate cream base of de-ionised, UV purified water, cetyl alcohol (from coconut), refined Almond oil, capric/caprylic triglyceride (from coconut), glyceryl monostearate (from plant glycerine), vegetable glycerine (not derived from palm), stearic acid (from plant fatty acid), ceteareth 20 and steareth 2 (both fatty acids from coconut), PEG-7 glyceryl cocoate (from coconut), potassium sorbate, Grapefruit seed extract, citric acid.
Directions:
Apply cream to clean skin affected by dryness or itching 3-4 times daily
---
More from this collection