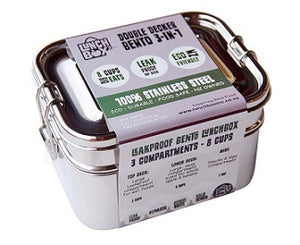 ie-produce
Double Decker Stainless Steel Bento Lunch Box
Double Decker Stainless Steel Bento Lunch Box
Leak-Proof & Stainless Steel, for big eaters. 2L capacity! 
Fits a small kiddie-sized apple and banana in the bottom compartment.  
Need to pack a lot of food? Check out our new stainless steel Double Decker bento that holds an impressive 8 cups of food in three separate food containers that nest and clip together.
This amazing piece of non-toxic lunch hardware is designed to handle generous portion sizes and is perfect for adults and children who are big eaters. 
The lid also has a silicone ring making it leak-proof to wet foods, so no more leaking into your handbag, briefcase or school bag!
Contains: Two-Tiered Bento 4.4 cups, 3.2 cups and a Snack Box, 0.75 cup. 
Product Details below 
It's Stainless steel and it's sized for HUNGER! Want an adult lunch box you can be proud of at the office? Did we mention, it's leakproof!
Crafted from 100% high-quality, food-grade stainless steel. The lunchbox is free of all estrogen-mimicking chemicals, such as BPA, BPS and phthalates. 
ECO friendly Stainless Steel, Dishwasher Safe, Zero Waste.
PRODUCT DETAILS
Removable silicone seal creates leakproof top deck compartment
Rugged, stainless steel lunch box is non-toxic, plastic-free and waste-free.
3 sections to keep food separated.
When clipped closed, the Double Decker measures 13cm wide, 17cm long and 10cm high. 
The upper and lower levels of the two-tiered bento each hold 1800ml (7.5 cups).
The rectangular nesting container with lid measures 5.5cm wide x 11.5cm long x 3.5cm high and holds 175ml (0.75 cups). This container can be either packed separately or tucked in the top level of the metal lunchbox.
Durable stainless steel clips fasten the lid in place and are very easy to open and close.
The inner Snack Box is pressure fitted for a tight fit but is not leakproof.
Not for use in the microwave. 
Dishwasher safe.
After washing, the silicone seal needs to be reinserted securely into the lid, to ensure no leaks.
Double Decker Lunch Box dimensions: 17cm (L) x 13cm (W) x 10cm (H) Total1975ml (8.3 cups). 
---
More from this collection