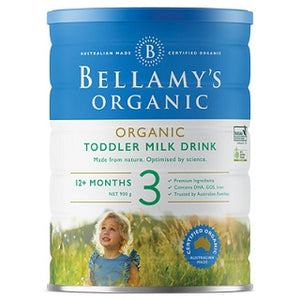 ie-produce
Bellamy's Organic Step 3 Organic Toddler Milk Drink 12 + months
Organic Step 3 Toddler Milk Drink Suitable from 12 + months
Bellamy's Organic Step 3 Toddler Milk Drink is a premium formulated supplementary milk drink, carefully crafted to support active toddlers from 1 to 3 years of age, when dietary intake may be inadequate. An enriched alternative to ordinary cow's milk, our Toddler Milk Drink is made from certified organic cow's milk, with the addition of essential fatty acid DHA, prebiotic (GOS) and 16 essential vitamins and minerals.
Added DHA & GOS
Iron, Zinc, Vitamin C, A & D for a healthy immune system
Iodine, Iron and Zinc to support brain development
Calcium and Vitamin D for growing bones and teeth
Zinc for healthy hair and nails
Australian made
Our Toddler Milk Drink tin will provide you with the necessary measuring scoop and preparation instructions, along with a feeding table to guide you on how much your toddler will need each day.
Our Toddler Milk Drink should be consumed as part of a healthy diet, which includes a variety of foods
Ingredientsz;
Organic milk solids [organic whole milk liquid or powder, organic skim milk liquid or powder, organic demineralised whey powder, organic lactose powder], organic vegetable oil [organic soybean oil, organic sunflower oil, emulsifier (organic soybean lecithin)], organic galacto-oligosaccharides liquid (GOS) from milk, dried DHA oil [fish oil (tuna), sodium caseinate, emulsifier (soybean lecithin), antioxidants (sodium ascorbate, mixed tocopherols, ascorbyl palmitate)]
MINERALS: Calcium carbonate, ferrous sulphate, zinc sulphate, potassium iodide, magnesium chloride.
VITAMINS: Sodium ascorbate, vitamin E acetate, niacinamide, vitamin A acetate, vitamin D3, vitamin B12, thiamine hydrochloride, pyridoxine hydrochloride, folic acid.
ALLERGENS: Contains milk, fish & soy.
---
More from this collection