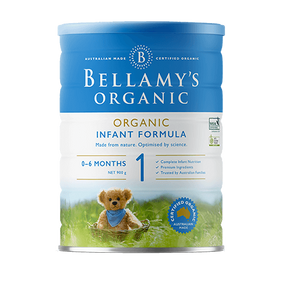 ie-produce
Bellamy's Certified Organic Step 1 Infant Formula 0 - 6 MONTHS
Certified Organic Step 1 Infant Formula 0 - 6 MONTHS
Bellamy's Organic Step 1 Infant Formula is nutritionally complete and carefully crafted to provide key ingredients which support the growth and development of babies, from birth through to 6 months of age.
Complete Infant Nutrition
Premium Ingredients
Certified Organic
Australian Made
Trusted by Australian Families
All our formula tins will provide you with the necessary measuring scoop and preparation instructions, along with a feeding table to guide you on how much your baby will need each day. Follow instructions exactly. Prepare bottles, teats and water as directed. Do not change proportions of powder except on medical advice.
Ingredients:
Organic milk solids [organic demineralised whey powder, organic whole milk liquid or powder, organic lactose powder, organic skim milk liquid or powder, organic whey protein concentrate], organic vegetable oil [organic palm olein oil, organic soybean oil, organic coconut oil, emulsifier (organic soybean lecithin)], organic galacto-oligosaccharides liquid (GOS) from milk, dried DHA and ARA oils [fish oil (tuna), sodium caseinate, emulsifier (soybean lecithin), antioxidants (sodium ascorbate, mixed tocopherols, ascorbyl palmitate)].
MINERALS: Calcium carbonate, di calcium hydrogen orthophosphate, di potassium hydrogen orthophosphate, magnesium chloride, potassium chloride, sodium citrate, potassium citrate, ferrous sulphate, zinc sulphate, copper sulphate, manganese sulphate, potassium iodide, sodium selenite.
VITAMINS: Sodium ascorbate, vitamin E acetate, vitamin A acetate, niacinamide, calcium pantothenate, vitamin D3, thiamine hydrochloride, pyridoxine hydrochloride, folic acid, vitamin K1, d-biotin, vitamin B12.
Allergens: Contains milk, fish & soy.
---
More from this collection