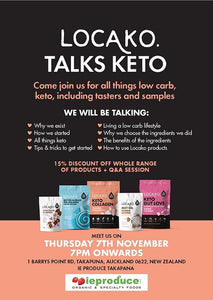 Locako Talks Keto
Sign Up
---
Locako Talks Keto
Come join Ally from Locako AU for a workshop on All things Low Carb, Keto,
including tasters and samples and much more...
- Our Story
Most people have no idea how their bodies are designed to feel, our mission is to change this, to help people feel better, perform better, think better by using the finest natural ingredients from the best sources possible. 
​
Health is truely our greatest wealth and who doesn't love food especially healthy, nutrient rich, clean snacks. The low carb and low sugar way of living is adapting fast with more and more people being more conscious about the ingredients they are putting in there body, 
​
Our Brownie Bites have added Grass Fed Collagen, excellent macros and 100% clean Ingredients. High in essential fats, Protein and both low carb and low sugar. We truly hope you enjoy our little treats. 
​
GRASS FED COLLAGEN
Collagen is found throughout the body in such areas as muscles, skin, bones, tendons, blood vessels, and the digestive system. Collagen is the glue that holds the body together. As we age the amount of collagen we produce begins to decline. This degeneration results in wrinkles, thinner skin, poor nails and hair structure, joint degenerate and joint pain, muscle loss and digestive issues.+
Consuming Collagen provides a way to replace collagen back into your body and has amazing benefits such as
🖤
Anti-ageing-tighter skin 
🖤
Injury and wound repair 
🖤
Build and maintain muscle