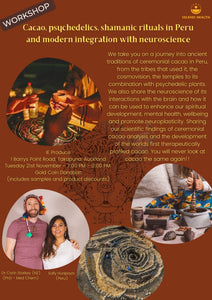 Cacao, Psychedelics, Shamanic Rituals in Peru and Modern Intergration with Neuroscience
Sign Up
---
Cacao, Psychedelics, Shamanic Rituals in Peru and Modern Intergration with Neuroscience
we take you on a journey into ancient traditions of ceremonial cacao in Peru, from the tribes that used it, the cosmovision, the temples to its combination with psychedelic plants.
We also share the neuroscience of its interactions with the brain and how it can be used to enhance our spiritual development, mental health, wellbeing and promote neuroplasticity.
Sharing our scientific findings of ceremonial cacao analysis and the development of the world's first   therapeutically profiled cacao.
You will never look at cacao the same again!!
instore @ ieproduce 
1 Barrys Point Road Takapuna Auckland 
Tuesday 21st November 7-9pm 
Gold coin donation 
(includes samples and product discounts)