Oscar Vital Max 900 Living Juicer
The Oscar is more than just a juicer…
The Oscar Juicer is a Fruit Juicer
The OSCAR Vital Max efficiently juices soft and hard fruits, even citrus fruits – juice limes, skin & all!
The Oscar Juicer is a Vegetable Juicer
The OSCAR VitalMax extracts the maximum juice from celery, carrots, peppers, radishes, cabbage, kale, in fact all vegetables including leafy greens such as parsley & spinach, without destroying the vital enzymes!
The Oscar Juicer is a Wheatgrass Juicer
Wheatgrass, aloe leaves, pine needles and other medicinal herbs which can be juiced with the OSCAR VitalMax
The Oscar Juicer is a Mincer/Blender
The OSCAR VitalMax chops and minces garlic, scallions, red pepper, ginger, radish and many other foods, including herbs and seasonings. Organic baby foods or soft foods for palliative are quick and easy to prepare with the blank screen provided
The Oscar Juicer is a Pasta Maker
Make fresh noodles in just minutes with the handy pasta nozzles & some fresh juice added in for extra nutrition!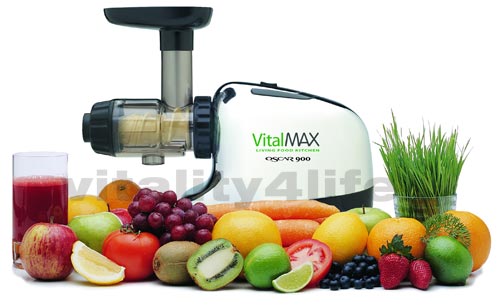 The most advanced single gear juicer, Oscar Vital Max 900 features a newly patented 3 step auger crushing system and silicon seal around the juicing cone providing the maximum amount of pulp-free juice. The cold pressed mortar & pestle action keeps the vital nutrients alive for 48 hours.